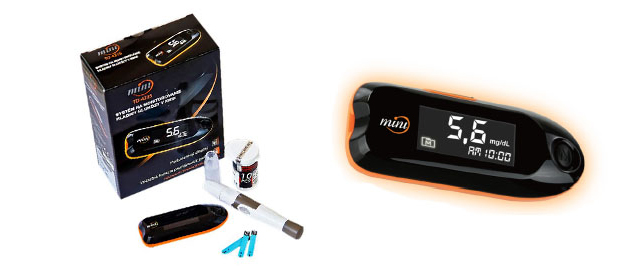 Blood Glucose Monitoring System TD-4235 Mini
order
software
14.52 €
Product description
Reliable bodyguard of your blood glucose levels with unique properties.
Responsible thanks to it´s accuracy. Discrete size. Simple operation. Easy result reading thanks to LCD display with backlight.
The system contains blood glucose meter, 10 lancets, 10 test strips, carrying case, lancing device with two different extensions, battery.
More info about product
Less info about product
Specifications:
Measuring Principle
electrochemical - glucose oxidase biosensor
Sample
full capillary blood
Coding
no coding
Calibration
Plasma ekvivalent
Alarm
4 different alarms
Memory
250 sets
Data Transfer
throgh USB port, software to download
Measurement Marks
4 modes: AC - before food, PC - after food, QC - control solution,
Gen - no mark
Reaction Time
7 seconds
Units of Measurement
mmol/L
Measurement Range
1,1 - 33,3mmol/L
Sample Size
0,7 µL
Alternative Site Testing
yes
Operating Conditions
10 - 40°C
Hematokrit Range
20 - 60%
Humidity
less than 85%
Storage Conditions
-20 až +60 °C
Altitude Independence
up to 3 275 meters
Power Source
1,5 V AAA (changable)
Battery Life
500 measurements
Size
9,3 x 3,6 x 2,1cm
Weight
45,4g (including battery)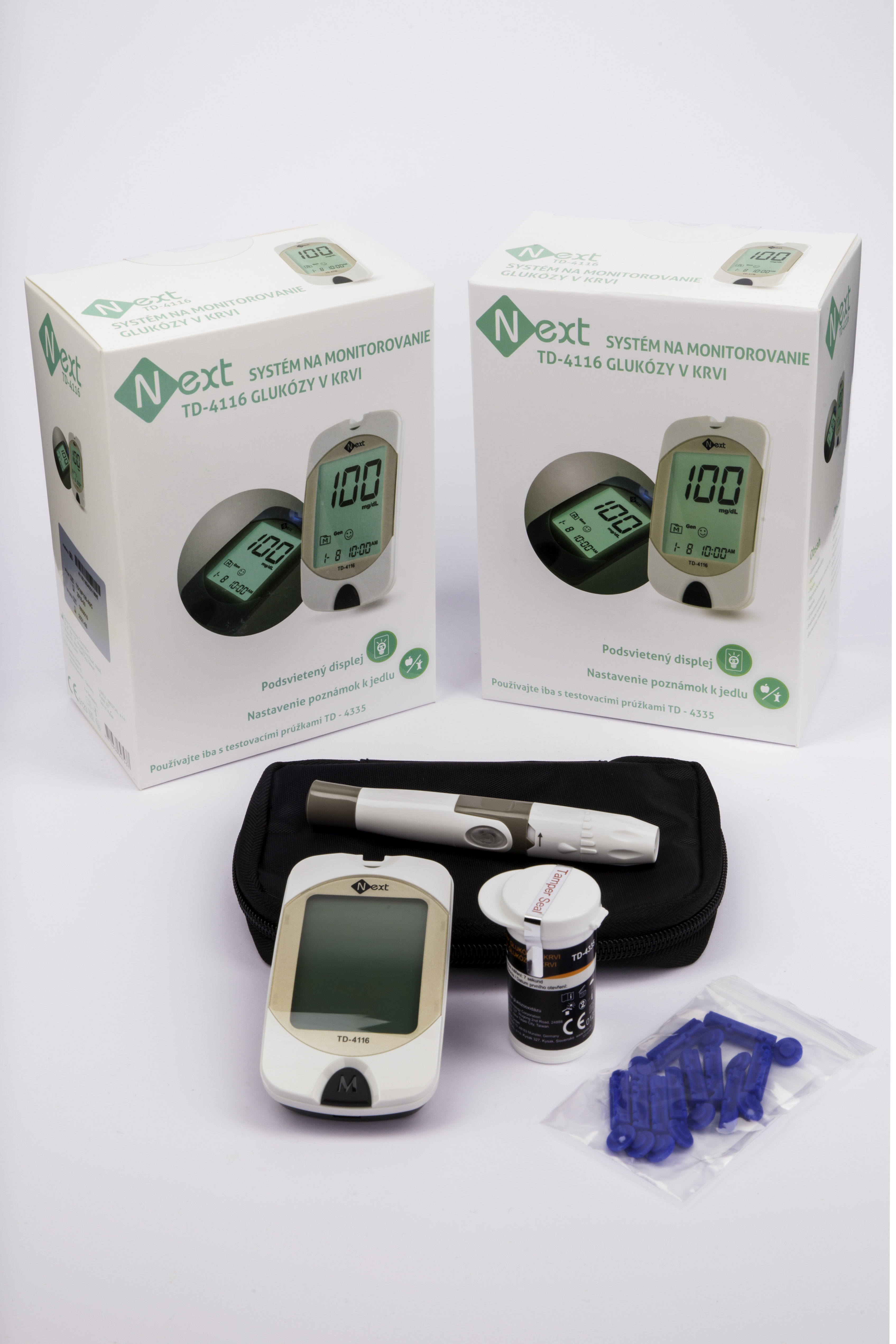 Blood Glucose Monitoring System TD-4116 Next
order
software
14.52 €
Product description
Bodyguard of your blood glucose levels with one of the largest LCD display with backlight and practical backlighted port for the test strip.
Easily readable. Responsible for it´s accuracy. Simple operation.
The system contains meter, 10 test strips, carrying case, battery.
More info about product
Less info about product
Specifications:
Measuring Principle
electrochemical - glucose oxidase biosensor
Sample
full capillary blood
Coding
no coding
Calibration
Plasma ekvivalent
Alarm
4 different alarms
Memory
450 sets
Data Transfer
throgh USB port, software to download
Measurement Marks
4 modes: AC - before food, PC - after food, QC - control solution,
Gen - no mark
Reaction Time
7 seconds
Units of Measurement
mmol/L
Measurement Range
1,1 - 33,3mmol/L
Sample Size
0,7 µL
Alternative Site Testing
yes
Operating Conditions
10 - 40°C
Hematokrit Range
20 - 60%
Humidity
less than 85%
Storage Conditions
from -20 °C to +60 °C
Altitude Independence
up to 3 275 meters
Power Source
1,5 V AAA (changable)
Battery Life
500 measurements
Size
8,9 x 5,2 x 1,7cm
Weight
46,6g (including battery)