Continuous blood glucose monitoring
Try continuous glucose monitoring throughout the week.
We are the first to bring a unique opportunity to lend all the necessary components for continuous glucose monitoring. Our educators will ensure complete sensor setup and evaluation of the results.
Who is CGM monitoring for? For every diabetic, either type 1 or 2, who wants to see their blood glucose during the working week and weekend.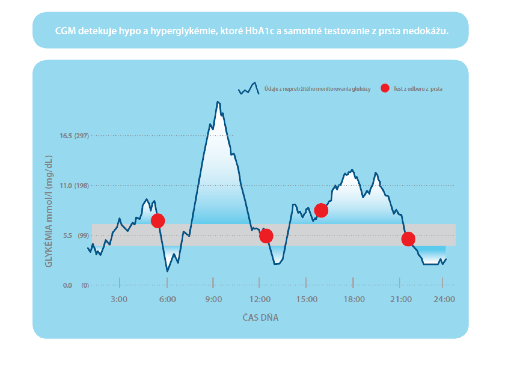 Our package includes:
Complete education with shooting of the glycemic sensor
 
Lending of sensor, transmitter, receiver (smartphone)
 
Evaluation of glycemic profiles during monitoring
 
Expert advice for the future important to prevent potential hypo and hyperglycemia
 
Advice on diet and exercise
Advantages of CGM:
reducing the number of hypoglycaemia and hyperglycaemia
actual blood glucose every 5 minutes
steady-state glycemic profile throughout the day and night
detecting unrecognized hypoglycaemia and hypergycemia
reduction of glycated hemoglobin
It can be used by athletes as well as by women in pregnancy or before the planned pregnancy.
And many other benefits that you will discover using CGM monitoring
If you are interested or would like more information, please feel free to contact us at t.c. 0901700970
             A long-term study compared average blood glucose levels in 161 patients who first measured glucose with a glucose meter for half a year and continuously for the second half of a year with a new device that stuck to their abdominal skin. After the second half of the study, the average patient's blood glucose was shown to decrease in the long term. This has also reduced the risk of complications of diabetes such as blindness, kidney damage and limb amputation.
             Patients with this device can normally shower, bathe and swim. With the transducer and transmitter it is possible to dive to a depth of 2 meters. The study also showed that continuous blood glucose measurements in patients improved the subjective perception of health - patients felt better.